Configuring LDAP
Using Content Editor in the Master database, navigate to /system/modules/ldap and select either LDAPclient or LDAPextranet.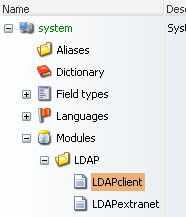 All fields are text unless otherwise specified.  In the sections below which document the various sections of these items; where values exist in quotes, those quotes should not be entered.  The Implementation column of the table can be used to enter any values which differ from the defaults.
This section contains the most basic configuration settings


These settings define which fields the module should retrieve from the directory when it searches, ads and updates


Filter expressions speed up the search in Active Directory


With Replication mode (see the Mode Selection), configure this section to send a notification to Users when adding them to Sitecore.


The Clear cache task is intended to run under any mode available. It updates security as if a User clicks the Update security link in the LDAP configuration application.


Additional directory fields can be used in searches, additions and updates.


Final configuration steps


Final configuration stepsDetails on Nested Groups support.


When using LDAP for Extranet, Users can be authenticated using the same Sitecore code as would be used without the LDAP module



Prev
Next