Valid for Sitecore 6.x
MaxMind signup and purchase of OMS lookups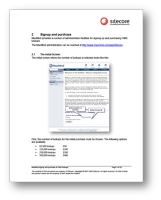 One of the many valuable features of Sitecore Online Marketing Suite (OMS) is the automatic GeoIP tracking, which identifies the user's location and allows for simple and efficient visitor segmentation.
The GeoIP lookup functionality is built into Sitecore OMS and utilizes services from MaxMind (www.maxmind.com) – a leading provider of geolocation services.
While the OMS comes with a number of free lookups for testing and implementation convenience to ensure that you can utilize OMS' capabilities from day one, the free batch of lookups will expire and more must be purchased from MaxMind.
This document guides you through the process to sign up with MaxMind and how to purchase more lookups and to administer your MaxMind account.
For further assistance regarding the use of the MaxMind administration pages, please contact support@maxmind.com.

You you are running Sitecore DMS, please consult the MaxMind Signup and Purchase for DMS page.